By Junita Thakorlal
Since I was a little girl, there was always only one local celebrity…Shushma Ji. From listening to her smooth and intoxicating voice on the radio or watching her interview Indian film stars on television, Shushma pumped out cultural norms and all things cool.
At a time when there was no internet or google, and little multicultural content or stories in the mainstream media, a woman bravely stepped out into a territory that no man had been before: Shushma was the first to bring South Asian content to the masses in Canada, feeding multi-generational immigrant families who were hungry for a piece of their motherland, their language, their food, their film, their arts and culture.
She was the Instagram of our time, the influencer connecting us to our ethnicity and roots as South Asians. She was our hero.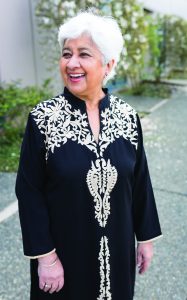 Born in Nairobi, Kenya, her parents moved to India to escape the political unrest and guerilla warfare. After completing her university education in Delhi with a major in History and Mahavidushi, which is a Bachelor of Arts in Hindi, she moved to London with the hopes of working in the Indian Consulate office. She did not have any typing skills, so she didn't get the job. Disheartened, she left the office and walked to the building next door with the giant red neon sign that read BBC.
"It just so happened that they were looking to hire a Hindi typist," Shushma shared a laugh recalling the situation from when she was 20 years old. "I became secretary to a team of 7 male broadcasters. I didn't tell them that I couldn't type but they soon figured it out. They took a chance on me and I learned how to type Hindi within 6 months and was broadcasting shortly thereafter."
She confessed, "my eyes were always on broadcasting. When I was 10 years old, our elementary school was doing a radio play at the Kenya Broadcasting Corporation. It was so fascinating! I only had one line to recite: dekho voh chuha laddoo kha raha hai. Of course, I made a mistake, but they edited my line and I couldn't believe how seamless it was. My dad wasn't very happy about my career choice, but my heart was set."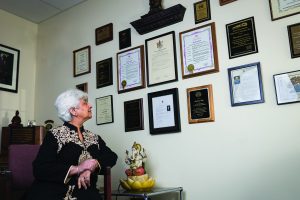 Shushma's broadcasting career is extensive. After emigrating to Canada in 1972, she joined 1470AM CJVB where she began Hindi and Punjabi radio programming. She also worked as a night shift operator for CHQM and would take her baby with her. "My son Sudhir would play until about midnight and then take his bottle and sleep," claiming that she was lucky that he was an easy baby. In 1979, she began television broadcasting with Monday Evening At The Movies and Thursday Entertainment on what is now Shaw Multicultural Channel. She also produced South Asian programs on the first ethnic pay television channel World View Pay TV, which is now Fairchild TV.
Proudly hanging on the wall in her boardroom is a photo of her with Mrs. Indira Gandhi, a career highlight from March 1984 when she had gone to interview the infamous Prime Minister of India. Three months later, Mrs. Gandhi had given the order to attack the Golden Temple. "I lost my job because of the pushback from that interview after subscribers cancelled their subscriptions in protest. It was very tough time for me," she shared sadly. Mrs. Indira Gandhi was assassinated later that year; her full interview is available on YouTube under ITMB Shows.
"When I was unemployed and at home, I decide to serve the Indian community by getting the news myself," she said, marking the birth of I.T. Media Broadcasting in 1984 which is the parent company of all of her radio and television assets including Women In Focus, a 30-minute television show which is in interview format.
In 1987, Radio Rim Jhim made history when it became the first 24-hour radio station in the world outside of India to broadcast to a South Asian audience. The live coverage of the General Elections in India helped to make the launch a huge success, making Radio Rim Jhim a staple in South Asian homes across Canada. "See, my frequency was in kilohertz and regular radio was in megahertz, so listeners needed to buy a box which would allow them to tune in. It was a huge risk for me, I didn't make any money for two years," she claimed. "But I got reporters to give me news of the Indian Elections every hour on the hour, and suddenly we had a waitlist of 2,000 radio units!"
The popularity of the radio boxes soared, as did requests for Indian political propaganda. "I am a proud Canadian, I didn't come here to fight the battles of India from my office", she said referring to the Khalistan movement. "What happened to the Sikhs in 1984 was absolutely horrible. But that was done by people living there, not here. The 384 people that died on that Air India flight were all living here. Why did they die for a fight that was not theirs?"
She continued, "I am a Punjabi but that doesn't mean that I condone spreading one-sided views through my media. I have always stayed true to my ethics about this. I chose to come to this country to make a good life for me and my family, so I followed the Canadian protocol for presenting unbiased news. I asked others why they came to this country if they were going to spew hate and venom to their children and community about the country which they left. How can they call themselves Canadians, live here and take the benefits but fight the battles of their homeland? This was simply not right, so I called them out on it every single time."
She recalled two occasions when she was threatened and feared for her life. "I heard that my name was on the 'hit list' plastered on the walls of Main Street Punjabi Market. I sent a camera crew to film the graffiti and soon began getting death threats. My brother was getting married in 1986 so I had no choice to accompany my mother to do some wedding shopping on Main Street. As we entered Ashoka Trading to look at fabric, I felt something was off when the shopkeeper said she was waiting for someone. An older woman standing at the back of the shop gestured me to go to her. She hugged me tight and whispered in my ear that she will not let anyone harm me, that I have many friends to protect me. It gave me courage to continue doing my job without bias."
The second was when Shushma was recording her shows with Kamal Sharma, Nimmi, and Sadhana on a 12-14-hour work day. "One day when we were recording late into the night, we all heard a loud noise come from outside. At the time, my office was at the busy intersection of Boundary Road and Hastings, so we didn't really think anything of it. We realized afterwards that there were two bullet holes in our front window," she said.
Through it all, she persevered. She expanded to Spice Radio RJ1200 in 2006 on the AM band, available on Telus and Shaw, and created an app which has made the station available globally. "We were granted a second licence from the Canadian Radio Television and Telecommunications Commission, so we decided to keep both and cater to two different generations," she said. They offer programming in English, Punjabi, Hindi, Gujarati, Urdu, Tamil, Telugu, Farsi, Italian, Croatian, Marathi, and Bengali.
Her son Sudhir is the Vice President of I.T. Media Broadcasting, and manages the technological integrations, making Spice Radio an Apple station. "Catering to Sudhir's generation was an important transition for us. They are the future of our business." Shushma employs 22 staff, 18 of which are broadcasters. Many of her employees have gone on to become hosts for mainstream media outlets: Ronil Desai for CityTV, Gurp Sian for Hockey Night in Canada – Punjabi Edition, and Angelina Rai for Virgin Radio 94.5FM.
Hundreds of certificates and awards line the walls and table tops of her offices, the most prestigious of which are the Order of British Columbia, Queen's Golden Jubilee Commemorative Medal, YWCA's Women of Distinction Award, Influential Women in Business Award (BC), and the Humanitarian Award from the Vancouver Multicultural Society. But it doesn't stop there – she started a movement called Raise Your Hands Against Racism which fosters a message of unity, respect, and takes a stand against racial injustice. The BC Government has proclaimed March 21st as Raise Your Hands Against Racism Day, a huge accomplishment.
When asked about how she broke out of the mould of being a woman of colour, and a single mother, to pursue her dream, she claimed, "the minute you leave fear and complacency behind, things will start to happen for you. Take me for example – I got my first loan from Business Development Bank of Canada to buy a camera for my tv show, bought used video machines for editing from Rogers, and spent my savings buying equipment totalling $10,000 to start my company. At the age of 41, I started a brand-new business for myself, a radio station. With no money. I couldn't even apply for an AM license at that time because it costs half a million dollars."
She continued, "women feel that they can't achieve because there are so many conditions put on them. If she can bear the pain of giving birth to another human, then she can do anything she puts her mind to. The universe is waiting for you to dream of something and if you put it out there, the universe will make sure that it will support you. There isn't a wish of mine that hasn't happened."
As they celebrate the 40th anniversary of the television show What's New In Vancouver on Shaw Multicultural Channel, Shushma's famous white streak of hair has faded into a silver pixie cut. "I actually feel 28 years old," she claimed with a chuckle. "I realized my dream of being a broadcaster and doing what I love every day, seven days a week. This is something I can't tire of."