By Junita Thakorlal
The pageant sashes were the first things I noticed – there were two of them hanging from the dresser mirror with care. "This was my first one for the Miss BC Pageant," said Tanpreet Parmar as she held the sash with a reminiscent smile growing across her face. While completing her degree at Kwantlen Polytechnic University in Human Resource Management, she stumbled upon an opportunity to compete in the Miss BC pageant where she snagged her first crown as Miss Charity BC in 2014. "I was so inspired by the fundraising component for Cops For Cancer after losing some family and close family friends to the disease. I didn't realize I had raised the most funds out of all of the candidates for the cause, which was a major contributing factor to me winning the title," shares Parmar.
The second sash was for her title as Miss India Canada 2016, a pageant organized by Sanjay Agnihotri, publisher of the Toronto-based Suhaag Magazine.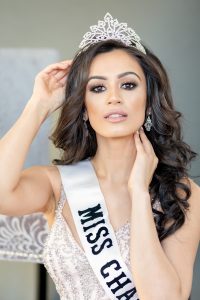 Pageantry isn't easy at the best of times. During her first Miss India Canada Pageant, she didn't win a crown but walked away with the title Miss Photogenic. She came home, reset her goals and persevered for her second go at the crown. "Most people don't do that, they just give up. I was relatively self-taught by watching youtube videos and reading inspirational stories which helped me set daily goals for myself. Walking is all about confidence and preparation," she admitted.
"I had a complete lifestyle change, eating clean with no sugar, and 1-2 hour workouts per day." Her diet includes chocolate mousse protein shakes and grenade crunch carb killa protein bars from Supplement King. "I melt it in the microwave and eat it like dessert. It's so good!"
She also admitted that she was bullied by other candidates. "I tried not to let it get me down, but snide remarks have a way of getting under your skin," she explained. "But I didn't give up. I worked hard on preparing my body and my mindset, coaching myself with positive reinforcement and self-talk, and I won! This positive thinking is what helped me keep my head straight. Just because you fail once doesn't mean it's the end – failure is a big teacher."
As Miss India Canada, she travelled across the country and to India to speak at various leadership conferences, telling her tales of struggle and perseverance. She was awarded the Woman of Substance Award on International Women's Day last year by Lovely Professional University in Jalandhar, Punjab, where her story touched students who she felt hadn't been exposed to the idea that they too can pursue their dreams. "They inspired me so much to continue striving for more stages, and to try to make a difference in people's lives simply through thought-sharing."
Parmar is now considered a role model for young women, where she speaks about confidence, being prepared, goal-setting, and overcoming challenges. She has also started a small business where she teaches the art of pageantry to young women who are competing. "Although I haven't had very many students, all of them have won titles which is very exciting! I feel so blessed to know that I was part of their journey in some way," she says.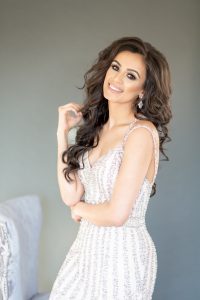 This past March 2, Parmar walked the ramp to compete in Montreal, Quebec for the Miss Canada Pageant and made it to the Top 5. "The Miss Canada Pageant doesn't have a swimsuit competition. I'm a big believer in that. I want to be fit, not skinny, and I don't think a woman's confidence is defined by walking in her swimsuit. It's not who I am, it's not really what I believe in. And if it's a factor then with all due respect, it does make me wonder what purpose that holds in a pageant," she justifies. "Pageants should focus on you as a person. To me, it's not genuine if a title is based on a dance performance either. Rather, how you interact with others through outings, workshops or personal interviews is more indicative to see if a girl has what it takes to hold the responsibility of a crown."
Being a confident beauty queen wasn't always part of Parmar's life – she recalls when she was bullied in high school as well, recounting stories that seemed as if they were directly out of the script of the Hollywood blockbuster Mean Girls. "I was a little chubby, kind of a tomboy," she recalls. "But when I won my first title, suddenly everyone became so nice to me. It was sad to realize how empty people can be, which is why I want to direct my attention to helping others."
She reveals that she wants to increase her speaking opportunities in an effort to help people develop their confidence through self-esteem and empowerment workshops. "I feel more successful when I see someone that I've helped to succeed. Everyone looks at one another as competition or a threat; they are for themselves rather than helping one another – I think that we all bring something different to the table so let's grow together, which is why I started these workshops."
She goes on to admit that it's difficult to make real friends now with the advent of Instagram where rude comments and messages have become part of Parmar's new daily normal. To this she says, "we all have people like that in our lives. To get through negativity, just don't react. You need to be confident in who you are. Love yourself first, and try to get rid of these people from your life by shifting your focus to what makes you happy."