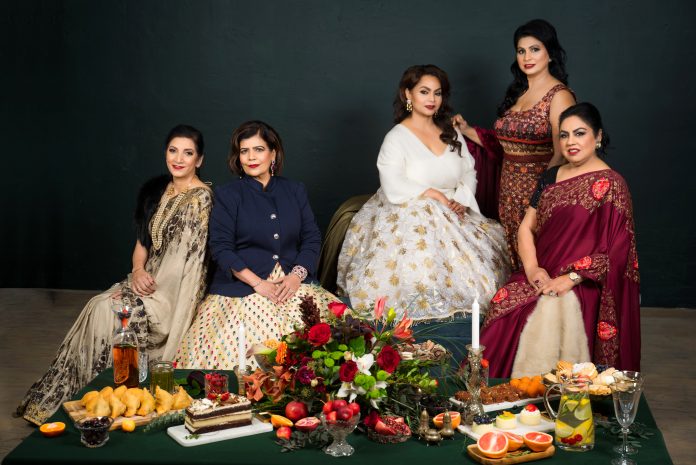 by Junita Thakorlal
An extraordinary woman has an air of mystery, exudes love and confidence, and enjoys and loves life without taking herself too seriously. She's desirable, intriguing, and someone who believes in herself. She is fierce about her family and home but knows how to entertain and when to have fun.
We interviewed five of Vancouver's 'society girls' who embody all of the traits of extraordinary women. Their husbands each run business empires that make these couples the trendsetters, and every event they attend the 'it' party. They share secrets and advice on love, life and happiness.
Deep Chohan
Status: Married for 28 years to Perminder Chohan, Managing Director of Desjardin Finan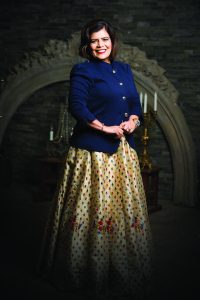 cial Richmond South Financial Center. Since 2009, he has recruited and trained over 600 insurance agents which he still oversees today.
Occupation: Dietary Aid Helper at Surrey Memorial Hospital, but really Perminder manages the business and I manage him! *laughs.
Children: one is a Psyche Nurse in Langley Hospital, one is in the 12th grade
Favourite Fragrance: Chanel Chance Eau Tendre
Q: What quality to you admire most about your husband?
A: He dreams big and it's so inspiring. I am so proud of his achievements. The number one quality I adore in my husband is how he loves his family.
Q: Who is the romantic one in your relationship?
A: He is! He always tries to surprise me. My life is full of surprises! He always buys me small gifts and flowers. He never misses a bouquet of flowers on Valentine's day, he knows I love them.
Q: How do you keep up with his social calendar?
A: I usually go with him to his events as much as I can. Sometimes it gets tiring but when I get home I remember the days when we had nothing, and it's important to not forget that. Now, I don't ask for anything — I am happy with what I have, I just say thank you to god every morning. I'm proud of his dedication to his work and his passion to help people.
Q: How do you feel about showing public display of affection?
A: I'm the affectionate one out of the two of us but I say no to public display of affection, I'm very private this way. Love has to come from the inside, it's not about what we show other people.
Q: What is most important in your marriage?
A: Running a big company means Perminder is busy. The kids see how hard he works and the support they receive from him. Whatever we have, we share because money can't buy love or good family.
Q: What advice can you give to women for a happy marriage?
A: If you have understanding, then there is no way someone can come in between you. Love without expectations. As soon as expectations come, it seeds negativity.
Sushil Toora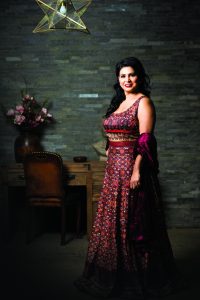 Status: Married for 25 years to Raj Toora, CEO of Toora Home Plans. Established 1997, Toora Home Plans drafts custom plans for new residential homes and renovations across North America.
Occupation: I work part time in Accounts Receivable for Toora Homes, but I am always running to City Hall for approvals on drawings and the bank for deposits.
Children: 2 boys in university
Favourite designer: I am against leather and animal cruelty, so I don't own any leather designer handbags, although I love Gucci and Chanel.
Favourite Drink: Caesar and at Spice 72 Restaurant, they make a rum and chocolate shot with fire. I love this!
Q: Do you like working with your husband?
A: As long as he doesn't pretend to be my boss! *laughs
Q: How often do you entertain at home?
A: Raj always has some sort of meeting or engagement — we have a huge social network and Raj likes to help with non-profit organizations, so we go out at least 4-5 days per week and entertain at home the remaining days. It gets tiring sometimes but we both love being social!
Q: What advice can you give to couples working together?
A: I never interfere and ask him what he is doing, how much he charges clients, or question his decisions. I just focus on my own work and listen to him when he is venting. Mutual respect is required.
Q: What is the secret to a happy marriage?
A: Never feel like you're getting old. Always go with the current trend or else life becomes mundane. And don't be afraid to talk about your sexual desires with one another, it's important to be equal in the bedroom. If your man is not satisfied in the house, he will look for something else outside. We still go out on dates together, and I am not shy if he kisses me in public or in front of the kids – it's important that he knows that my world revolves around him. I don't stand for someone telling me how we should and shouldn't behave in public, it just tells me that they are judgemental and stuck on a stereotype.
Q: Tell us something we don't know about you.
A: I'm a pescatarian, I don't eat meat and avoid everything leather if I can.
Ruby Arora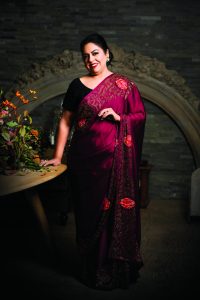 Status: Married for 32 years to Paul Arora, CEO Gagan Foods. Established 1991, Gagan Foods is now the largest South Asian wholesale company in western Canada specializing in produce, packaged foods, and non-perishables.
Occupation: I handled Inventory and Finance at Gagan Foods until 5 years ago. There was a lot on my plate running a company, socializing, entertaining suppliers, customer service, plus maintaining a personal social life. I'm home now handling "headquarters".
Children: one is studying medicine, one is handling Finance and Operations at Gagan Foods.
Luxury item of choice: I'm hesitant to buy expensive things for myself because I remember the days when we struggled, but HE will buy me designer handbags and jewellery. I'm fairly thrifty with my spending.
Q: How did you manage work life balance plus a busy social life?
A: Working and being a dutiful wife and raising children, plus entertaining clients 3-4 times per week was not easy. But I focused on the big picture which was when I could retire from the company and do things that I wanted to do. When I was working with Paul, and even still today, I make fresh breakfast and lunch and pack it for him since dinner is usually outside somewhere. I still run errands for the business if Paul needs me, but I manage my time myself and always find time for self-care.
Q: How does your husband show you he loves you?
A: He loves to take short trips and surprises me all the time with last minute trips for the weekend. For many, many years, and even now, almost every Saturday he buys me a single red rose. It's very romantic of him. I'm admiring my rose right now.
Q: What was your secret to maintaining a happy marriage?
A: We never brought home any baggage from work, arguments don't take you anywhere. Never go to bed angry — I never want to have any regrets should one of us not wake up in the morning.
Q: Do you have any unfulfilled dreams?
A: I love singing and listening to music, and I'm actually learning how to play the piano. My dream is to learn how to play hindi songs on the piano.
My secret weapon: Cooking. Paul loves my bhindi (okra), aloo gobi (potato and cauliflower curry) and goat curry.
Harjinder Bhogal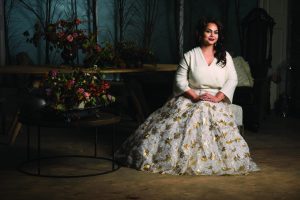 Status: Married for 28 years to Paul Bhogal, CEO of Sunrise Kitchens. Established 1983, Sunrise Kitchens specializes in designer cabinetry for residential living.
Occupation: Manager of Accounts Payable and Payroll at Sunrise Kitchens
Children: one son in University, one daughter who manages Human Resources at Sunrise Kitchens
In my purse: Chapstick and drivers license, doesn't matter who is driving I always have these things with me.
Favourite brand of shoes: Michael Kors, because they are quite comfortable!
Q: Is your husband romantic?
A: I love it when Paul dotes on me, every woman wants her husband to shower her with attention. This doesn't necessarily mean he shows off in public about his affection for me but every day he shows me that he cares.
Q: Does your husband help you in the kitchen?
A: Not really but every Sunday he makes chai in the morning. Once per month, we have a prayer and he makes the prashad (offering) himself.
Q: How do you keep a happy marriage when you work with your husband?
A: I hardly see Paul at work — he is always so busy so I just focus on my own workload and we don't interfere with one another at all. No one is perfect, but just give the benefit of the doubt to your partner and talk it out through open communication. Rain may be coming now but the clouds will break, and the sun will shine through always. I just remember this, and it helps dissipate my anger.
Q: What is the most valuable gift he has given you?
A: Understanding. He gives me space in my personal and professional life, he doesn't interfere with my work or at home with my family, and the biggest thing is that he never says no to me when I ask for anything, and he doesn't question or stop me from buying something. He has given me my independence, respect, understanding and so what more do I want?
Q: What is your secret to always having fabulous Instagram photos?
A: I used to be a model in India before I moved to Canada so I know my angles. *laughs
Shashi Sharma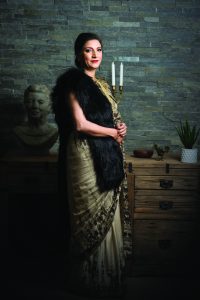 Status: Married for 38 years to Kamal Sharma, CEO of KVP Entertainers. Established in 1990, KVP Entertainers has made Bollywood accessible to the masses through a video store which is still open today in Surrey. Their first international star concert was with Jagjit Singh in 1994.
Occupation: Finance Manager, and I also help him with organization for his events when he needs me.
Children: one daughter who manages theatre sales and catering at River Rock Casino Resort, and one son who handles distribution and marketing for Vikram Vij's frozen food products.
Favourite Drink: white wine
Q: Bollywood is such a glamourous industry. How do you keep up with the fashion?
A: It's not about how much you spend on clothing, it just doesn't impress me. It's about how you carry yourself. I would rather spend on quality. Kamal spoils me but I don't like to spend unnecessarily.
Q: You've dealt with so many stars. Who would you say is your favourite?
A: Mahendra Kapoor – he was so sweet! There are so many! Richa Sharma, Hritik Roshan, Shreya Ghosal, Anupam Kher. The first autograph I got was from Om Puri and I will always remember that.
Q: You are in the public eye because of your work. Do you face any form of negativity at all?
A: I've never seen negativity so far in dealing with the public or with the stars, just people say we are lucky to be with the stars, but this is our work, our livelihood. Organizing 5-6 concerts per year keeps us very busy, and Kamal doesn't compromise on the quality or the sound system so people keep coming back. And when everything you do is about entertainment, of course it makes people happy!
Q: What do you love the most about your husband?
A: He is a very honest person and I love that about him. He has no hidden agenda.
Q: Do you have any relationship advice?
A: No marriage is perfect, it's a compromise. Seeing someone 24 hours per day can become difficult if you don't set boundaries and respect them. Always be patient and listen to your partner. Kamal is a workaholic and still is, but we weathered the storm and so will everyone else if they think about their relationship as one rather than two halves.
Q: What don't we know about you?
A: We were married at the original VHP temple in Burnaby.