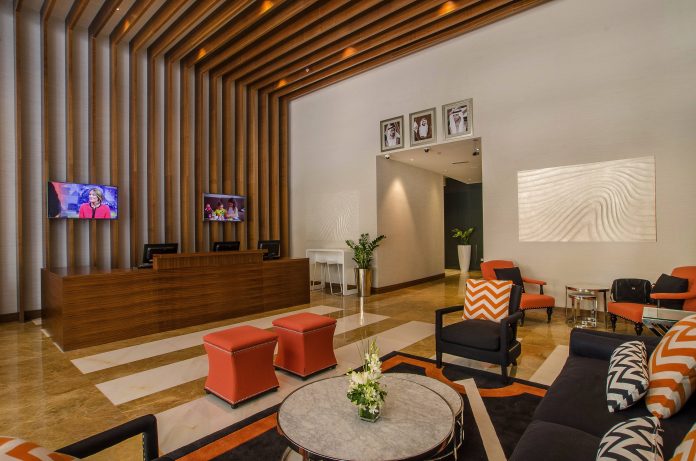 Dubai, Aug 4 (IANS) Getting the feeling of staying at a home instead of a hotel room while travelling is a welcome proposition for anyone. Travellers who don't mind spending a little extra to get that extra luxury in homely comfort can now sit back and relax. The Aparthotel concept is raising the bar for luxury stays.
With options from the one-bedroom to the super-luxury four-bedroom apartments, the Apathotel Adagio Premium in Dubai's busy Al Barsha area offers much more than hotel rooms and serviced apartments.
"The Aparthotel provides all the facilities, comfort and security that one would expect from a hotel – but with the spaciousness and privacy of an apartment. The Aparthotel offers a wide selection of apartment types, and is one of the only hotel apartments in Dubai offering a choice of four-bedroom apartments," Robin Solomon, residence manager of Dubai's Aparthotel Adagio Premium, told IANS.
The spacious apartments range from 80-square metres (one-bedroom) to 270-square metres (four bedrooms). All apartments have big-sized living rooms.
"The amenities are splendid. The two-bedroom apartments have four washrooms each – if that gives more comfort to someone. One feels that one is staying at home," Khaled Mohammed, a visitor from Muscat, said.
The premium apartments, part of the Accor Group here, are the first such in the UAE and only the second in the world. The Aparthotel was launched in Dubai in March.
Located close to the Palm Jumeirah Island, the Aparthotel offers stunning views of the Arabian Gulf. The property boasts 198 upmarket serviced apartments across 41 floors; with 72 one-bedroom, 76 two-bedroom, 35 three-bedroom and 15 four-bedroom apartments.
"We cater to both business and leisure travellers. Corporate clients look for reassurance and familiarity of accommodation when they are travelling. Aparthotel Adagio Premium represents a destination that guests will want to return to time and again, for its facilities, service and feeling of exclusivity," Solomon said.
"Families wishing to come on a short-stay vacation who are seeking home away from home ambience will also be delighted. The apartment comes with a completely equipped kitchen," he said.
The Aparthotel is not far from other attractions like Dubai Mall (Burj Khalifa and Dubai Fountains), Burj Al Arab, Gold Souk and Jumeirah beach.
"The apartments have a lot of things for kids and young people. These include LED flat screen televisions, bluetooth music system, high-speed internet access and individual climate control. My younger brother and I did not want to leave the Aparthotel when our trip was ending," Tushaar, a young visitor, told IANS.
The service areas inside the apartments boast of a walk-in area with washing machine and clothes dryer. The fully-equipped kitchen includes things like a gas-stove and oven, microwave oven, fridge-freezer, dishwasher, toaster, coffee percolator, kettle, cutlery, crockery and dinnerware.
The Aparthotel also offers 24-hour laundry and room service. It even has a 24-hour grocery delivery service.
"Dubai has established itself as one of the world's premium destinations, offering travellers a wide variety of exclusive products and services. While the city is known for its array of upscale hotels, we recognize that there is an increasing need for premium-style accommodations of an extended stay nature.
"This is best served through the Aparthotel Adagio Premium, which lends itself to the longer-term guest seeking the comfort and privacy of a home, combined with all the services that one would expect of an upscale hotel," Solomon pointed out.
Location: Near Sharaf DG Metro Station, Shiekh Zayed Road, Al Barsha, Dubai. Tel: +971 43049988
Apartment tariff: From $85/Rs.12,000 (one bedroom) to $625/Rs.40,000 (four bedroom)
Nearby attractions: Mall of Emirates, Jumeirah Beach, Ski Dubai (inside Mall of Emirates)
Eating Out: Plenty of eating joints in the area.