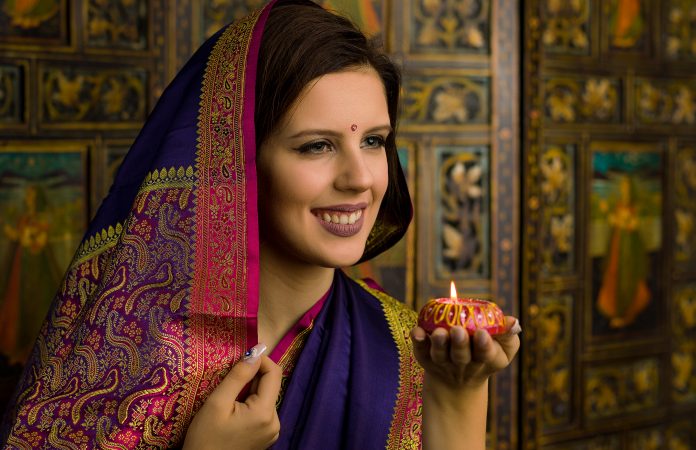 By: Kanwalpreet Trehan
Take a close look at any brown girls' pictures and their poses. I bet that if you Google 'Aishwariya Rai Diwali' you will find the exact same iconic poses in various instagram feeds across the globe. It's what growing up in a brown family with Bollywood influences does to us. The one celebration that is most affected by Bollywood is a wedding.   
We think that 'ceremony' equates to our mother (envision Jaya Bachchan's image here from Kabhi Khushi Kabhi Gham), wearing a beautiful saree (dress) with perfectly coiffed hair, holding a thali (veneration plate) in front of the God idols and singing in perfect harmony and almost always sounding like Lata Mangeshkar. We think that she will just turn around at the sheer essence of our presence as we jump down 50ft from a flying helicopter and land on our feet. We think that our families will all gather and dance in sync, and relish in joy and laughter while celebrating weddings, engagements, or literally any event that involves an ounce of glamour.
The reality? South Asian family gatherings are equivalent to drama, gossip, and sometimes bickering and full-blown arguments – either that, or the complete opposite which is an intimate gathering where you get to conveniently squeeze out Laado Masi and Jeeto Pua. Sometimes, it's easier to take a vacation to escape the intolerable. The reality is that if family gatherings don't imitate the scenes of a Karan Johar film, there is a sense of an incomplete festivity. This is what Bollywood has done to us.   
Is it right, though? Is a wedding not a wedding if we don't get glammed up, wear expensive wear-once clothing and one-up one another? Would it be any less of a wedding if we were to spend that energy, time, effort and money on distributing blankets to the homeless?  Would the Goddess Laxmi bestow fewer blessings on us if we did a good deed in her name?
I have started to question our way of celebrating our evolved traditions. Every weekend in the Greater Vancouver area, hundreds of South Asian couples tie the knot and every bride is decked out from head to toe resembling the latest Bollywood star. We are still swooning over our favourite Bollywood star's wedding looks but I question if it's really necessary?
Thousands of dollars are spent on numerous events mimicking the latest Bollywood trend and yet, the reality is far from the perfect Bollywood fantasy of a happily ever after. In actuality, the South Asian community is facing a serious problem of growing divorce rates. Despite the excessive spend on having the perfect wedding outfit or venue or party favour or décor to keep up with the Kardashians, marriages are simply not lasting. Is it because Bollywood doesn't teach us that marriage isn't picture perfect? That it requires commitment, hard work and honesty to make it work? That there is a deeper meaning and connection to the soul of a person beyond the fancy external packaging?
These are the thoughts that often come to my mind as wedding season approaches. I guess cynicism comes with age, and I have started to think out of the Bollywood box.
Bio: Kanwalpreet Trehan is the owner of Soiree Planners and Swank Wedding Show, and is a proud mom of an active 1-year-old. She also manages the online platform of AaarzuMagazine.com.