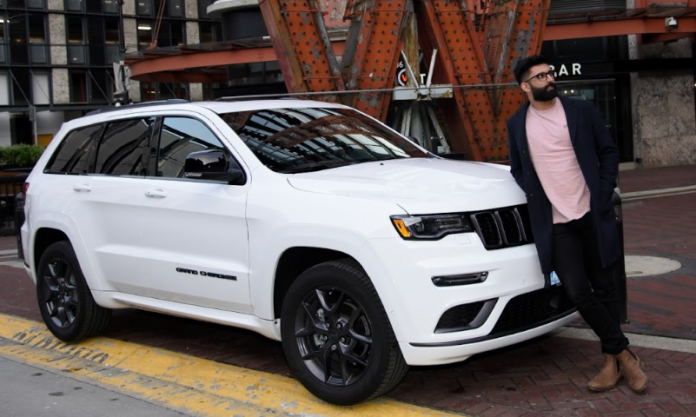 An avid crossfitter, Dr. Kirtpaul Sandhu was looking for a car to fit his active lifestyle but also fit his professional image as a Chiropractic doctor. Just a few days after getting his Jeep Grand Cherokee, Dr. Sandhu was able to easily navigate through Vancouver's snow storm to move between his two offices in South Surrey and Fleetwood to see his patients.
"I've had my eye on the Jeep Grand Cherokee Limited X for a while," he shares. "It has all the bells and whistles of a luxury rival brand but in an affordable and well-built package." A small town boy from Prince Rupert, Dr. Sandhu knew that he needed a vehicle that was roomy enough to fit his hockey gear in the back and rugged enough to drive in the back country. "I also dabble in nature photography, so being able to drive deep into the trails is important to me. The Grand Cherokee Limited X just seemed to meet all of my needs in one vehicle."
The Grand Cherokee Limited X starts at $50,650.
REASONS WHY I DRIVE A JEEP:
Sleek Look
The interior and exterior is clean and sleek, with spot-on ergonomics and a whopping 11 trim options. The driving position is high up and comfortable, the performance hood is the same used in the more expensive SRT, deep windowsills to rest your arms, and a large screen with Apple Carplay and Android Auto connectivity.
2. Cool Features
The 8.4 inch glass screen response is sensitive and remembers previous inputs, connects to phone Bluetooth in a split-second, and there are quick prompts that come on as soon as the car is started to guide the driver to quickly turn on heated seat and steering wheel options. The remote engine start is a godsend on cold winter nights. There's also a panoramic sunroof that gives an amazing view from every seat.
3. Fuel Efficient
The V-6 engine is fuel efficient by SUV standards and still packs a punch having a brawny towing capacity of upto 6,200 lbs. The convenient start/stop system helps to conserve gasoline, as did the smooth shifting 8-speed automatic.
Confession: I hate when someone adjusts my seat, so I love the seat memory option.
Favourite Past-Time: Hiking on a trail somewhere with my camera in hand.
My First Car: Toyata 4Runner