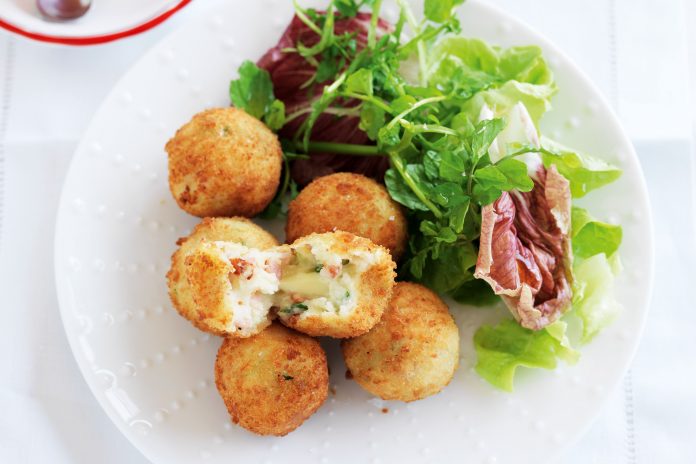 by hebbarskitchen.com
These are the perfect little snack, vegetarian, with a cheesy surprise in the centre. Try it!
Pair with a vibrant and fruity white that will support the potatoes instead of over powering it. Cotes du Rhone Blanc – Meffre Saint Vincent $16.99 at BC Liquor Stores.
Ingredients
1 cup grated cheese mozzarella / cheddar
¼ cup sweet corn fresh / frozen
1-2 potatos boiled, pealed, mashed
1 tsp corn flour
½ tsp chaat masala
½ tsp pepper crushed
salt to taste
½ cup corn flour
3 tbsp maida / all-purpose flour / plain flour
1 cup bread crumbs / panko bread crumbs
Instructions
in a large mixing bowl, combine sweet corn, shredded cheese, and potatoes, chaat masala, crushed pepper and salt. Add corn flour – this helps to bind ingredients together and remove extra moisture.
Mix to form a dough. If it's watery, add more corn flour 1tsp at a time.
Grease your hands with oil and prepare small balls.
Roll balls in corn flour to coat.
Prepare a maida flour paste by missing with ¼ cup water. Dip balls into paste and roll in bread crumbs.
Freeze for 30 minutes, then deep fry in hot oil until gold brown. Or for healthier alternative, bake for 15 minutes at 350F or until golden brown.