An interview with actor, bodybuilder and pro fitness model Jagjit Athwal.
by Junita Thakorlal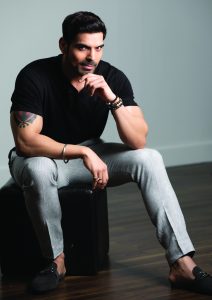 Building muscles is a slow and steady pace to the finish line, where endorphins are released that make bodybuilding addicting to those that are on the inside track. Endurance, strength, and speed are all put to the test just as it once was by one Hindu Mythology's most revered figures, Lord Hanuman.
We had the pleasure of chatting with the actor that played Hanuman on Sony Entertainment's Bharat Ka Veer Putra – Maharana Pratap, Jagjit Athwal. Turns out, he ranked top spot in over 35 of India's most prestigious body building competitions and snagged the titles of Mr. India, Mr. Asia, Mr. Punjab, and Mr. North India. Bajrangbali to be sure!
Jagjit's career began in the Indian Police Force in Punjab 20and today, he is a pro fitness model and bodybuilder who travels between Vancouver and Mumbai to fulfill his passion as an actor. He has appeared as a Finalist in Bachelorette India with Mallika Sherawat, portrayed the character Sub-Inspector Vansh on the hit crime drama CID, and has several films in the pipeline.
Q. You came to Vancouver in 2009 to compete in Bodybuilding at the World Police and Fire Games. Bollywood seems so much more exciting, what made you want to stay here?
I've been to many countries for competitions, but I was just embraced by the beauty of Vancouver. I fell in love with the calm, serene and quiet environment, the mountains, trees and chilled weather. I just felt so connected to the nature and beauty of this place that I decided to stay.
Q. How do you live in Canada and act in India? Doesn't it become difficult to balance your career and personal life?
My family is settled here, so I mostly travel back and forth depending on the project I sign. Scheduling in advance allows me to make the most of my time in both countries. I also take personal training clients in both countries so that I can continue to explore my strength and help others achieve theirs. Everything gets balanced once we know our goals.
Q. Let's be blunt, your body is god-like. Tell us about your mindset while working out.
My dad is my inspiration, I've been mimicking him since my childhood. He was a body builder with abs of steel, he served the country for several years. I just became his little replica and worked hard with focus, determination and dedication just like he did. The mindset while working out was and still is only one thing: do or die.
Q. We all recognize those that go to the gym to work out, and those that come to just flex. What is your number one pet peeve while working out at the gym?
I get annoyed when people come to gym thinking it's a park or a garden. They are on their phones constantly or will hog the equipment for much longer than necessary. And the absolute worst is when someone asks me how much I can bench, as if it's a competition. There is no place for ego at the gym.
Q. My mother became an instant fan when she realized that you played the role of Hanuman. How did this role impact your psyche?
Hanuman is a blessed character and the impact of this celestial role changes the mindset of a person. I would read the Hanuman Chalisa to give me more knowledge and understanding of my internal strength, and the love and affection I got from fans was unbelievable! They actually believed that my blessings were what they needed which humbled me immensely. My fans are what makes my life simple.
Q. CID is one of the most well-known crime dramas on Indian television in India and abroad. What has been the most exciting thing about playing Inspector Vansh for the past four years?
The most exciting thing about this role was that I could actually play my own profession as Police Inspector before entering the Bollywood realm. Though it was a very different experience to be a real inspector and a reel inspector, I enjoyed being both and gained lot of experience working with Sir Shivaji Satam (ACP Pradyuman) and my other buddies Dayanand Shetty (Daya), Dinesh Phadnis (Fredricks), and Ajay Nagrath (Pankaj).
Q. What are your future career plans? Any projects where we can watch you in action (and drool)?
I'm more focused now on my acting and modelling so I'm remaining lean to be able to match the requirements for the industry; I restrict myself from getting too built. I'm continuing to shoot commercials and act in Bollywood and South films, which I am really passionate about. My upcoming film is called He-Man, directed by Puneet Isser, where I'm playing the villain.
Q. There are so many people that you can inspire through your fame and work. What advice can you give our readers about following their dreams?
First of all, love and respect your parents as they are the ones who will support you till the end. Everything I have achieved thus far is because of my mom and dad. Second most important message is to eat healthy, stay fit, exercise and just say no to drugs – your body is your temple. Find a better you in yourself and everything else will follow.