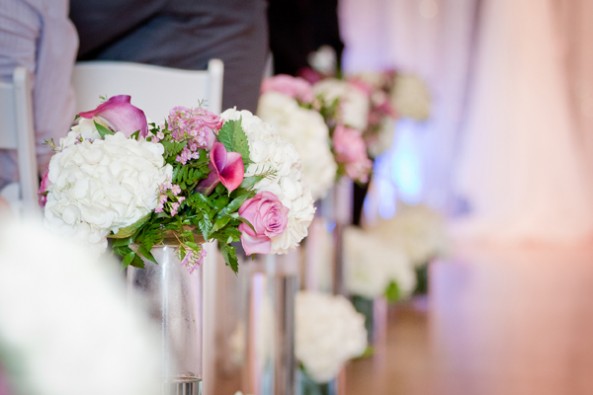 Generally, when you think of Indian weddings one thinks of 800 guests and a budget that is the size of a condo mortgage. But, is it truly necessary to spend that much money for an Indian wedding or can frugal meet fabulous in Indian weddings as well? I think it can and here are a few of my tips for achieving that:
It starts with the guest list:
Indians are generally known for inviting every one they ever knew. It's a tight knit community and it's like walking on eggshells when it comes to who to invite and who not to invite. But when it comes to the main event, does every single person you have ever met really need to be invited? Definitely not. Have a heart to heart chat with your parents and let them know you want it to be a more intimate gathering. You'd be surprised how much you'll save by just getting rid of 5 tables (of 8). That's 40 people and a savings of approximately $1600 at a reception.
Get creative with the pre-events:
Indian weddings are famous for the week long festivities but ask your parents or grandparents how these were done back in India and they'll tell you these were not over-the-top events. The ladies of the house would gather to cook at home and most of the pre-wedding events were done as a means of prepping for the big day.
Think about combining some of these. For example, have you ever considered having the wedding and reception together? Traditionally, in India, guests arrive at an outdoor venue where food is being served pretty much all day. They eat while close family, bride and groom take off to have the ceremony at a nearby temple and then they return to enjoy the rest of the day with the rest of the guests. All the guests get to take pictures with the newly weds and have a lunch reception. This usually goes on until 5 p.m. It's a ceremony, it's a lunch, it's a reception all in one smooth day. People are not tired, everyone enjoys and no one goes home hungry. Plus, the hosts save thousands on unlimited liquor as one can really only drink so much at a lunch reception.
Another idea is to get rid of the "ladies party" all together. What about just having a "henna night" at your home or in your back yard? That's what is done traditionally in India. No banquet halls are rented for a "ladies party" or "ring ceremony". These small scale events were meant to be for close family members only. It was meant to be a series of events that close family would attend to get to know each other better and build that bond.
Not having the pre-wedding events in a banquet hall would save you thousands again!
Think outside the box:
Décor is another large expense in the Indian wedding scene. Having been a decorator, I use to suggest cutting corners all the time. There are things that make an impact in the room overall and then there are items that don't and can be nixed.
Consider spending your money on lighting. That is incredibly impactful but doesn't cost as much as all those centrepieces that guests usually end up moving over anyway. Room lighting is huge in setting the mood.
Create your own centrepieces! How about purchasing some vases from the dollar store and putting beautiful bangles in them? Ask your family and friends if they have bangles that they don't wear anymore and instead of the bangles collecting dust in their homes, it'll serve a purpose at your wedding! Cylinder vases, bangles, water and floating candles. Simple and glamorous at the same time. Cost effective? Absolutely!
Consider getting rid of the sashes. Although sashes look beautiful, they do add up when you have 800 chair (that's $800 dollar right there).
Consider altering table cloths. Have two plains and one specialty linen rather then all of them being speciality. Or look at the room from an birds-view and see which tables are going to be captured by the photographs. Focus on the tables on the outsides and the reserved tables to save some costs.
Take a look at other decorators, photographers or makeup artists as potential vendors. They may not advertise through the avenues that most Indian wedding vendors do but most of them offer the same services at much lower costs.
Gift giving:
Indian parents feel a lot of pressure as most of the gift exchanging happens in the banquet halls these days. As mentioned before, consider kicking it old school and doing this amongst close family only so that the pressure eases and so does the gift expenditure.
Cut back, think outside the box, and reduce your guest list. These are my key three pieces of advice on helping you cut costs when it comes to Indian weddings. My last piece of advice, hire a good wedding planner. They will bargain for you, negotiate for you and help you come up with creative ideas on how to cut corners but not sacrifice on quality.
It may be an added expense of $3000 – $4000 but you will likely end up saving more than you spend on the planner.
If you have any questions or would like a complimentary consultation, please contact me at kim@SoireePlanners.ca
xo,
Kim Trehan
Soirée Planners | Soirée Lounge