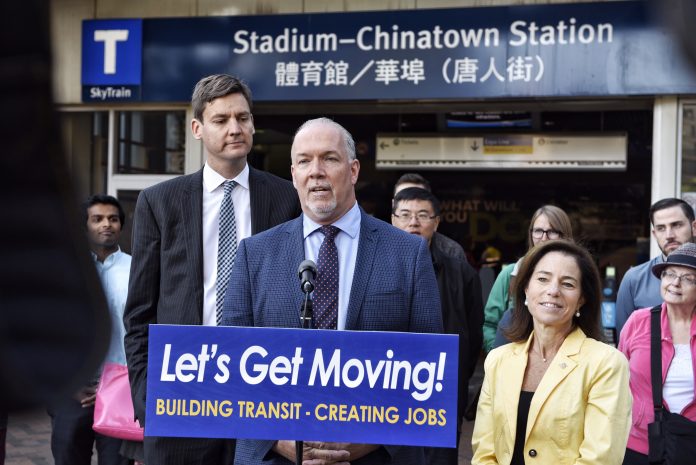 Victoria: We need to get Metro Vancouver moving again.
That's why this week I announced my plan to end the region's transit gridlock, shorten commutes and create thousands of construction jobs over the next decade.
A New Democrat government will increase the provincial share of capital funding for public transportation improvements from 33 to 40 per cent. In doing so, we'll clear the way for the transit projects this region desperately needs.
The mayors in the Metro region put together a 10-year plan for regional transit, and we support their vision. The region expects a million more people to arrive by 2030, and without a transit plan, the congestion we see today will only get worse.
Putting this plan into action will also mean a boost to our economy.
We'll put people to work building infrastructure, generating more than 4,300 jobs a year for British Columbians over 10 years. That's almost $3 billion in wages over the coming years, and a contribution of almost $4.5 billion to the B.C. economy.
The B.C. Liberals don't think it's possible to grow our economy and tackle climate change at the same time. But that's yesterday's thinking. We can protect our environment while we grow our economy, and in our changing world, business and environmental leaders expect elected officials to find that balance.
We will step up where the B.C. Liberals have continued to stall.
Instead of working productively to address the congestion in the Metro region, the premier has stood in the way. Now, because Christy Clark hasn't done her work, the people of Metro Vancouver can't get to work.
Again and again, the premier has failed to support plans to grow transit and cut congestion in the fast-growing Metro region.
The premier forced an expensive, made-to-fail transit referendum on voters, she picked fights with Lower Mainland mayors over funding, and she has stalled and dithered and blocked the way forward for years now.
Meanwhile, every day, people in this region sit for hours in traffic congestion, watch full buses pass them by, or squeeze into overcrowded SkyTrains. Our economy has paid the price too – the C.D. Howe Institute estimated that congestion in Metro Vancouver costs our economy up to $1.2 billion each year.
The mayors' plan provides 1.5 million more people with reliable public transit service, cuts congested commutes by up to half an hour every day, and reduces greenhouse gas emissions.
It brings more routes and better service to 70 per cent of Metro residents, and ensures that much-needed transit improvements like new rapid transit in Surrey and along the Broadway corridor finally get built. It will improve key road infrastructure, too, replacing the Pattullo Bridge and upgrading road networks.
The mayors have made it clear they need provincial support to get people and goods moving smoothly across Metro. We can't afford to wait any longer for Christy Clark to do her job. Her inaction is holding back people and holding back our economy.
New Democrats are ready to step up and get this done.