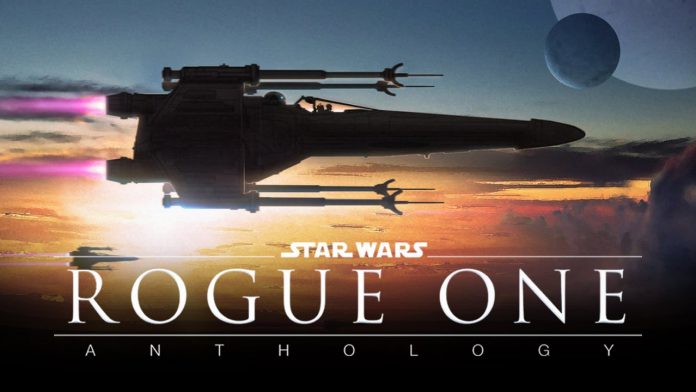 Explosive. Engaging. Exciting. Entertaining. Words like these fail to convey the exuberance one feels while watching Rogue One: A Star Wars Story. Maybe the brain trusts at Disney erred as they could have well called it A Star Wars Saga. Put simply this film has it all. Expect long line-ups at neighbouring Cineplex complex throughout the British Columbia universe. This is one case where the wait is well worth it. Unquestionably.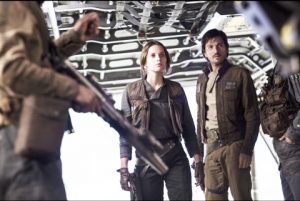 To be successful a film needs a good story and competent performances. Rogue One has these elements and a lot more. Said to be a prequel to all things Star Wars our tale begins when a freedom loving scientist played nobly by Mads Mikelson (Casino Royale) wants to lead a quiet life as a pacifist. Fat chance. Forces of evil have him in his sights to help build a weapon of annihilation. This strain sets off a chain of events that span many years and see an abandoned daughter come of age.
Character complexities simply add fuel to the fire in this crackerjack of a movie. Layer upon layer of subplots thicken as director Garth Edwards delivers an inspiring tale of good versus evil with impeccable performances. Half the planet – women – will be inspired as Felicity Jones, cast as leading lady Jyn wrestles with all sorts of turmoil in hopes of finding herself, inding her dad and just maybe saving the world. At a time when some stupid supporters of the equally useless United Nations gave Wonder Woman her walking papers maybe they should consider giving Jyn her marching orders. In a galaxy far, far away the way Jyn meets up with various shades of Rebels is convincing and the rest, as they say, is history.
Superb performances from a convey of established and soon to be name actors rise to the occasion. Under lots of make-up one finds likeable a Forest Whitaker. Class action movies need villains you can hiss at. Sure to enter the hall of shame as a charter member is Ben Mendelson's rendition of an evil general out to control the world for a bad emperor and an even meaner Darth Vader. Mendelson's graceful performance here really steals the movie outright. Yes, he is that good and so is the movie.
Audiences flock to these movies for the sheer spectacle. Here Rogue One not only meets these expectations but easily surpasses them thanks to a great story, superb atmosphere, dripping tension, precision pacing and knock-out space battles that all have meaning.
What a movie! Shot on location in the deserts of Jordan, the serenity of snowy Iceland and James Bond's home base Pinewood Studios Rogue One is an enchanting film full of mystery, intrigue and excitement galore. Fit for the whole family it can be seen in 3-D or regular versions which are just as good. Whatever version you choose you will find sitting through this two hour and fifteen-minute movie simply a joy to behold. George Lucas would be prod with the results. So will you!