Wardrobe Essentials for the Gang!
Concept, Direction & Styling: Junita Thakorlal
Makeup & Hair:
Luvania Beauty Studio, Lash Out Studio, Kristina Friesen
Outfits:
Made In India, Ghunghat Fashions, Satya Paul Canada, Everything But The Groom, Raas Leela by
Parvesh Jai
Jewellery & Accessories:
Gehna Jewelry, Monsoon Canada, High Heel Obsessions, Made In India, Satya Paul Canada
Flowers:
99 Nursery & Florists
Photography:
Curtis Look Photography
Models:
Chelsea, Natasha, Priya, Joti & Alisha
Your bestie is getting married!! It's all so exciting until you open your closet and realize that you have a huge problem… you have absolutely nothing to wear. So what's a girl to do? Well, duh, let's go shopping! Get inspired this wedding season with these hot looks and colours.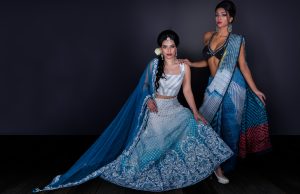 Left to right: Natasha is wearing a gorgeous lengha by Made In India with minimalist jewellery to match, shoes available at High Heel Obsession.
HMUA: Kristina Vancouver Makeup Artist
Priya is wearing a crepe de chine saree with sculpted blouse and earrings, all exclusively available at Satya Paul Canada.

HMUA: Lashout Studios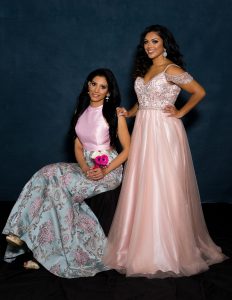 Joti:
Outfit: Everything But The Groom
Shoes: High Heel Obsession
Earrings: Monsoon Canada at Raas Leela by Parvesh Jai
Flowers: 99 Nursery & Florists
HMUA: Luvania Beauty Studio
Alisha:
Outfit: Everything But The Groom
Jewellery: Made In India
HMUA: Luvania Beauty Studio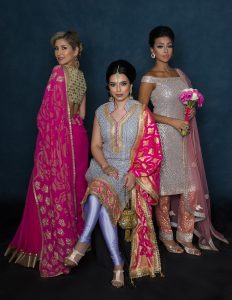 Chelsea:
Outfit & Jewellery: Satya Paul Canada
HMUA: Kristina Friesen
Natasha:
Outfit: Ghunghat Fashions
Shoes: High Heel Obsession
Jewellery & Purse: Gehna Jewelry
HMUA: Kristina Friesen
Priya:
Outfit & Jewellery: Made In India
Flowers: 99 Nursery & Florists
HMUA: Lash Out Studio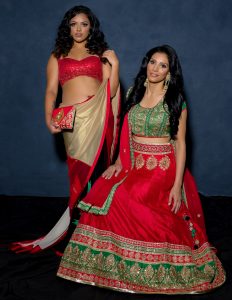 Alisha:
Outfit: Satya Paul Canada
Purse: High Heel Obsession
HMUA: Luvania Beauty Studio
Joti:
Outfit: Mayanka Gupta at Raas Leela by Parvesh Jai
Jewellery: Monsoon Canada at Raas Leela by Parvesh Jai
HMUA: Luvania Beauty Studio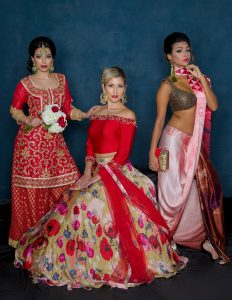 Natasha:
Outfit: Ghunghat Fashions
Jewellery: Gehna Jewelry
Flowers: 99 Nursery & Florists
HMUA: Kristina Friesen
Chelsea:
Outfit & Jewellery: Made In India
HMUA: Kristina Friesen
Priya:
Outfit & Jewellery: Satya Paul Canada
Shoes: High Heel Obsession
HMUA: Lash Out Studio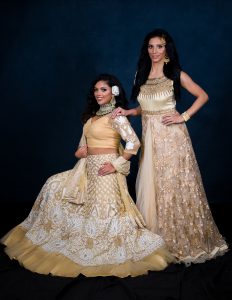 Left to right:
Alisha enchants us in a delicate thread-embroidered lengha by Parvesh Jai, jewellery by Monsoon Canada all exclusively available at Raas Leela by Parvesh Jai, and white hydrangea stem from 99 Nursery & Florists. HMUA: Luvania Beauty Studio
Joti is looking regal in a tulle gown by Ghunghat Fashions, with jewellery and cuff from Gehna Jewelry.
HMUA: Luvania Beauty Studio