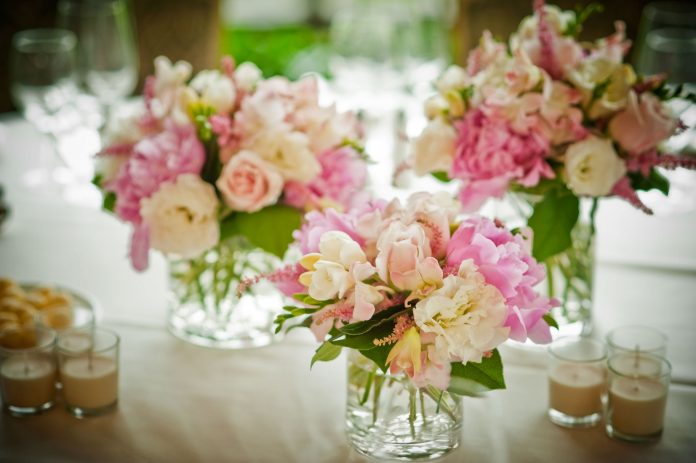 When planning your wedding, you will need to select many different floral arrangements for your ceremony, reception and some very important people. Remember that many florists charge a set up feet to deliver and set up your flowers. Make sure when you finalize your order that your florist knows where your locations are and what time the flowers need to be set up by.
Here is a list of arrangements you will need to purchase for your wedding.
Bridal Bouquet: The bridal bouquet is one of the most important elements to the bride's wardrobe, second only to the wedding dress. This should be given special attention because it will make a strong impact as you walk down the aisle and also during your wedding photographs. Traditionally, the bridal bouquet is carried low enough to reveal the details of the bridal gown. Consider bouquets which will compliment your gown and your stature. Carry a smaller bouquet if you are petite or if your gown is ornate. Carry a larger bouquet if your dress is simple, or if you are tall. The most popular styles are cascade, cluster, contemporary and hand tied bouquets. The most popular color for bridal bouquets is white; however, feel free to incorporate any of your favorite colors or your color scheme within your bouquet. If you select a delicate floral arrangement, make sure your florist uses a bouquet holder to keep them fresh – or your flowers may droop and wilt.
Tossing Bouquet: If you want to preserve your bridal bouquet, you may want to consider having your florist make up a smaller, less expensive bouquet just for tossing.
Maid of Honor's Bouquet: The Maid of Honor's bouquet should be somewhat larger than the bridesmaid's bouquets. You can also add different flowers or colors to set her apart from the other bridesmaids.
Bridesmaids' Bouquets: Generally, the bridesmaids' bouquets compliment their dresses and are smaller in size than the bridal or maid of honor's bouquets. The bridesmaids' bouquets are always identical.
Flower Girl: Usually wear a hairpiece of flowers. These flowers can be real or artificial but should compliment the bouquets in the wedding party. A hat, tiara, ribbon or bows are an alternative. Flower girls can toss real or silk petals. Keep in mind fresh petals not only wilt quickly, but also can be slippery and can stain your wedding dress as you walk over them.
Corsages: The groom is responsible for purchasing corsages for his mother, the bride's mother and grandmothers. The flowers do not have to be identical – they should coordinate with their dresses. Also check with the women if they want to wear them on their wrist or pinned to their dress or purse.
Groom's Boutonniere: Boutonnieres are usually a single blossom. However, if your groomsmen are also wearing a single blossom, you may consider having a double blossom boutonniere for the groom to set him apart from the rest of the wedding party.
Groomsmen and Boutonnieres for Other Members: The groom gives each man in his wedding party a boutonniere to wear on his left lapel. The ring bearer may or may not wear a boutonniere. The groom should also consider ordering boutonnieres for the fathers, grandfathers and brothers.
Main Altar of Ceremony Location: The flowers at the ceremony site can be as elaborate or as simple as your wish. You may want to check with the ceremony location or with your florist for floral recommendations. Many ceremony locations (depending on the season) may already have altar flowers on the day of your wedding.
Unity Candle or Candle lighting: You may choose to decorate your unity candle with a strand of flowers.
Aisle Pews: Flowers, candles or ribbons are often used to mark the aisle pews and add color.
Reception Site: Flowers add beauty, color and sometimes fragrance to your wedding reception. Again, these can be as elaborate or as simple as you like. Like all the other flowers in your wedding, reception flowers should match your color scheme and overall feeling of your wedding.
Reception Head Table: The head table is where the wedding party will sit during the ceremony. The flowers should be in the same style of the guest tables, but should be bigger, and a bit more elaborate.
Guest Tables: Floral centerpieces should coordinate with the table linens, wedding colors, size of the table and should be low enough (or tall enough) so that they do not hinder conversation between guests.
Buffet Table and Bar Area: Some decorations should be added to these areas, especially if food is being served. If you rather not flowers think, fruit displays, pineapples, bunches of berries, vegetables or herbs.
Other reception areas you may want to consider having flowers around are: cocktail hour buffet tables, ice sculptures, guest book tables, escort card table, and bathrooms.