Couples today are finding increasingly creative ways to personalize their big day. Here are some trends that we've pegged for this year!

THE FIRST LOOK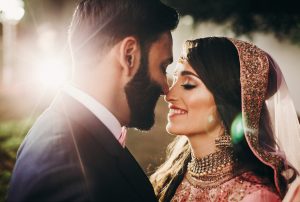 This trend allows couples to have a private moment together before the ceremony. Walking down the aisle can be quite intimidating, which is why couples are choosing to take the pressure off with a new tradition. Many couples are even deciding to capture the first look on camera so they can look back at their authentic reactions!

PATTERNS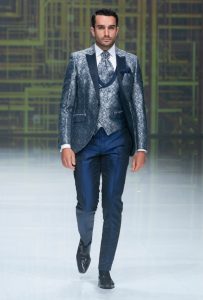 Pair different fabrics and patterns together to give more personality to your groom's outfit such as this mix-and-match look is from Ramón Sanjurjo's 2019 collection.


GRAZING TABLES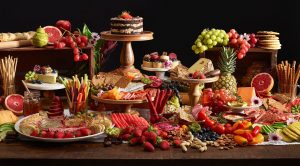 More and more couples are turning food into art, and why not? Treat guests to delicious treats that are visually striking as well. Include an array of different breads, meats, fruits, nuts, cheeses, chocolates, and more before the wedding or reception rather than the traditional appetizers served at the table by the platefuls. This option rivals having served canapés but with a lot more personality!
STRUCTURAL FLORAL INSTALLATIONS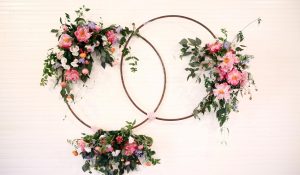 Add drama to traditional florals by incorporating structural elements such as golden rods or wooden beams with organic greens. This will make your décor much more unique and memorable.
MONOGRAMS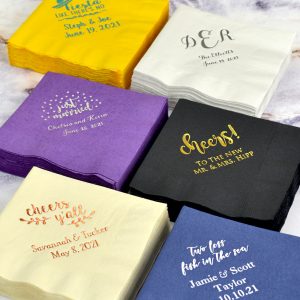 Monograms are emerging as the perfect personal touch to your wedding. From your wedding invitations to your projected wall gobo to your cocktail napkins, your monogram creates a cohesive theme that is personal and completely you!


DANCE FLOOR WRAP
Transform your theme and colours to the most used portion of the venue – the dance floor. You can print your monogram on vinyl or have it designed with any colour and shape you want! This trend is sure to stick around.
TAPER CANDLES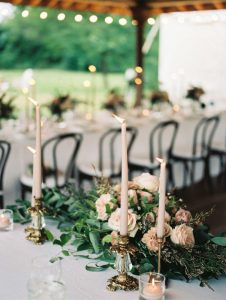 These long candles can seriously elevate your decor in a matter of seconds with minimal effort. All it takes is a few tapers to boost your tablescapes and give it that unexpected theatrical flair, and the best part is that you can find taper candles in almost any color, whether you want classic white, metallic gold, or even black. But be sure to ask your venue first if you are able to have lighted candles in your décor.

PAMPAS GRASS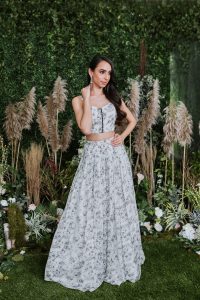 A blast from the past, it's easy to see why pampas grass is seeing a renaissance. It's hardy, versatile, budget-friendly, adds instant texture, and is available all year round. This towering plant produces large feather-like plumes which are perfect for wild boho weddings and luxe romantic affairs, such as this look created by Pink Paisley Decor for Mahari Collections.

DAHLIA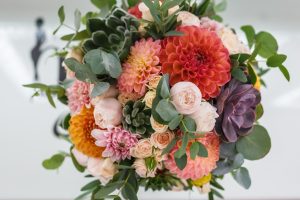 Along with the soft and romantic peonies and roses, the dahlia flower is expected to be all the rage this year. Once considered old-fashioned, Dahlias make a comeback as a fabulously showy bloom which comes in a huge range of colours and is in season from May to November, making it one of the most versatile wedding flowers around.