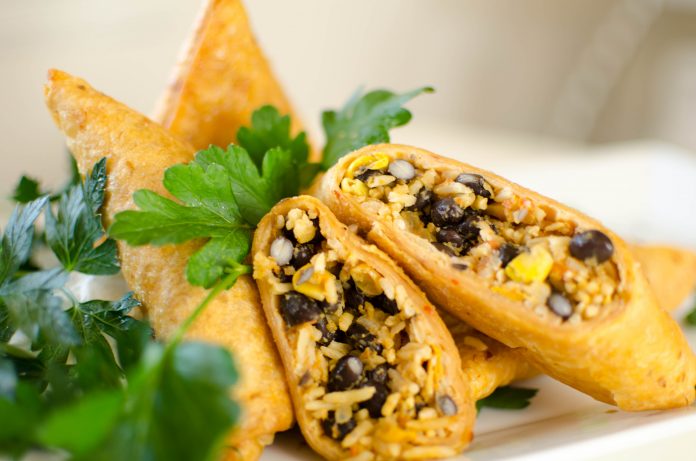 For the past 18 years, Nana's Kitchen has been focused on making gourmet convenient comfort foods with a global taste. What began as a small family restaurant in Burnaby has now grown to produce 25,000 samosas per day distributed across Canada and USA. From mixing of the ingredients to folding the crust, to cooking, and finally to shipping, the company has it all down to a science.
Headed up by the dynamic sister duo Nasim Dhanji and Shelina Mawani, the company sources ingredients from across Canada and is firmly rooted in supporting local farms, businesses, and women. Employed in the 22,000 square foot Surrey-based plant are 50 women, many of whom are immigrants with basic education.
"Supporting and empowering our employees to further their certifications and vocational training has been an amazing journey for us to witness the growth of employees," shares Mawani. "Being part of their growth, and how they have made Nana's a part of their lives truly makes me realize that we are on the right path. For example, our current Production Manager spoke absolutely no English when she started here, but she showed initiative so we supported her through English language classes and vocational training. She worked very hard to obtain her certifications and today, I'm proud to say that she oversees 35 staff members."
Many of the women that work in the plant are of Indian origin, perhaps because they understand the product, perhaps because they are adaptable to the rigorous processes and regulations that are required to produce large quantities of samosas, or perhaps because they have found a work environment where they feel valued and respected, backed by a company they can trust to enforce a policy for zero tolerance for harassment and bullying.
"We celebrate all religious holidays such as Eid, Diwali, Lohri, and Christmas. And last year, we took the entire staff on a Vancouver Harbour Cruise which docked at Granville Island. One of the women that worked in the plant said to me with tears in her eyes, 'What is this place Shelina? I never knew Vancouver was so beautiful!' This was because she had never experienced anything like this before as her focus was on supporting her family to get established in this new country. These are the types of stories that drive us to continue supporting women, to help them make a better life for themselves, and I am thrilled that we can be part of their own personal journey."
Nana's Kitchen is a HACCP and BRC approved facility which means that it meets the strict food and safety guidelines as set out by the Canada Food Inspection Agency and the US Food & Drug Administration. "Taste the difference of having the filling in every bite, even in the corners," she urges. "Our unique, one-flap design of the crust allows for more stuffing and less crust. Each samosa is 140 grams, which is almost three times the size of others available in the market. It's important to not have processed food so all of the ingredients are fresh and meet all food and safety standards."
With aggressive growth tactics in place and growth in their pakora and chimichanga distribution, Nana's Kitchen will soon be a household name across the North American continent. However, the core product of the company is still samosas, made in seven different flavors including Tandoori Chicken Samosas, Quinoa and Lentil Samosas, and Cajun Samosas. Find yours in the deli section of your favourite grocery store chain.